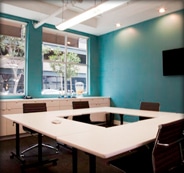 Web Videos 101: The message, the media & the marketing.
Half Day Workshop
Saturday, June 30th: 10am – 1pm
Venue: Working Village, Santa Monica
Ticket Price: $375.00
(Purchase your reservation before June 1st, and receive $50.00 off)

About This Workshop:
In an age where people have the attention span of gnats, you can engage your audience quickly and easily with web video. People long to do business with individuals they like and trust, so make great connections by producing simple, compelling video content that can be broadcast all over the web. Once you master the message, you will learn basic production techniques and tips for uploading and distribution. It's easier than you think!
Meet the talent behind my online presence. You will learn production secrets from Robert LaPorta, my videographer and editor, as well as Jay Mutzafi, my website developer. With their expertise, I have turned my passion into profits.
IN THIS WORKSHOP I WILL TEACH YOU:
In this workshop, I will teach you the BASIC steps to creating compelling content, so you can share your expertise with ease. I will review the three biggest challenges people face when considering producing their own website videos:
The Message: Learn how to craft your brightest selling points so you light up the screen. When you know what to say and know how to say it with ease, you attract clients.
The Media: With simple tools and techniques, you can shoot low-tech video, while maximizing sound, and lighting. Watch how your iPhone can be your one- stop video production system.
The Marketing: Now that you have your video, learn how to maximize its reach. Whether it's uploading it to your website, posting it on Facebook or distributing it all over the web, video gets noticed, so make sure you've produced content worthy of someone's attention.

Who is this event for?
This workshop is ideal for entrepreneurs who want to kick their website up to a new level of engagement. Have you always wanted to produce video but didn't know HOW? Are you nervous that it will look unprofessional? Overwhelmed by distributing the video once you produced it? Once you know the BASICS, you can begin broadcasting YOU. Your audience is waiting!
Purchase Tickets
LIMITED SEATS AVAILABLE
Tickets are $375.00 (Purchase your reservation before June 10th, and receive $50.00 off)

---
If you are interested in attending future events, please submit your contact information here. I will notify you about all upcoming group workshops, including sessions at UCLA Extension, SMARTY Peer-to-Peer Workshops, and introductory group sessions I host throughout the year. I look forward to seeing you at my next event!