Learn to shine on video and on stage!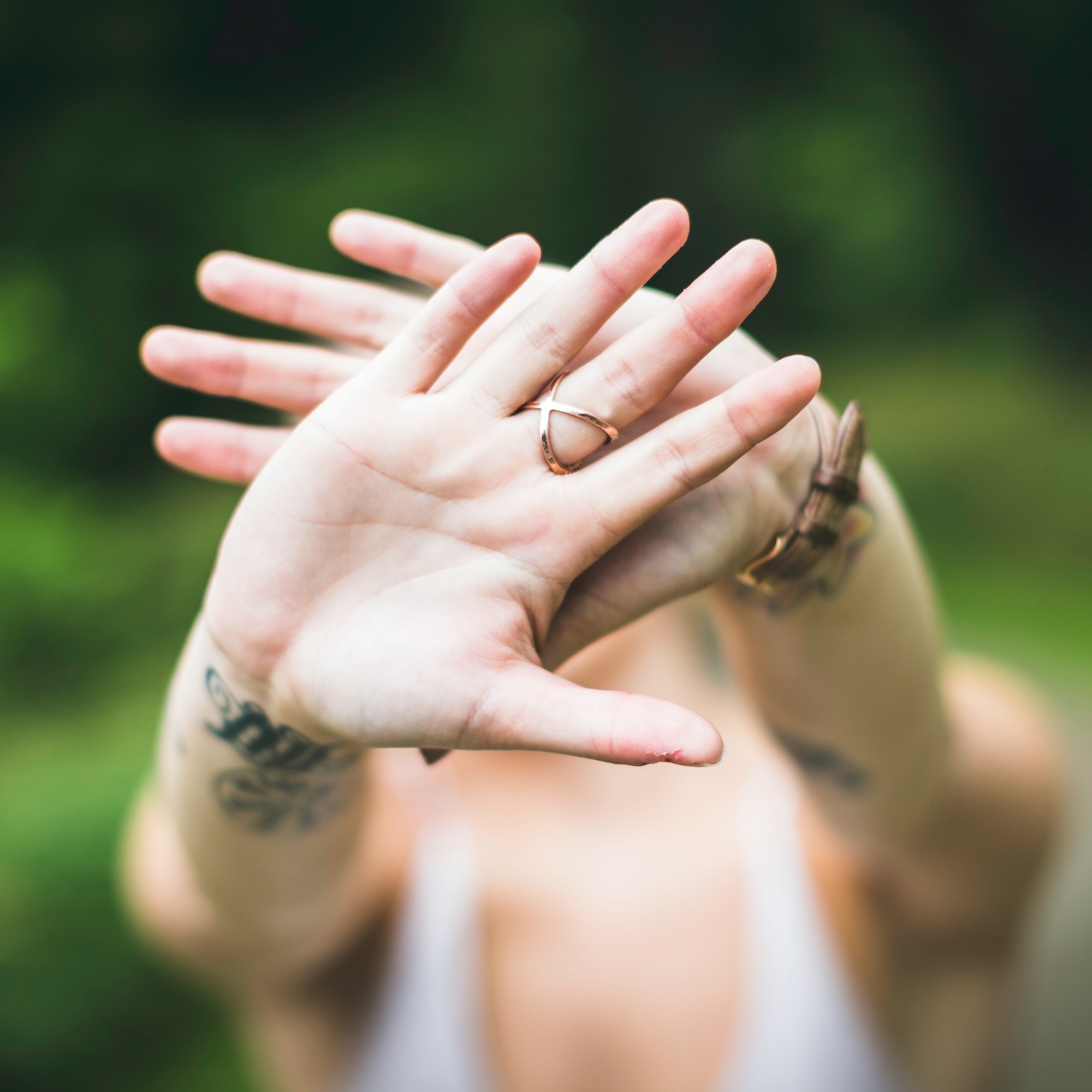 Have you been
secretly longing

to be seen?
You seem content and successful to others but, inwardly, you know you haven't really stepped up and put yourself out there the way you want to.
You haven't launched your YouTube channel. You're still putting off that podcast. That online course you want to launch is still just a dream. You dodge opportunities to present to influencers in your field even though you know they could help your career.
You're hiding behind-the-scenes feeling utterly invisible.
But there is a whisper in your ear, begging you to speak up and be seen.
You long to
jump out of your comfort zone

and share your message with the world.
You know your message is important and valuable—yet something is holding you back from going big, from shining as brightly as you could. What is it?!
The answer is: it's different for everyone.
But the good news is it's not that hard to find that box, open it up, and let the butterflies out. Are you wishing for fame? Fortune? More professional recognition? Yes, you can achieve those things… but what you really gain is priceless.
The real prize is how you'll feel when you're expressing your truest self to the world in the most effective, contagious way possible.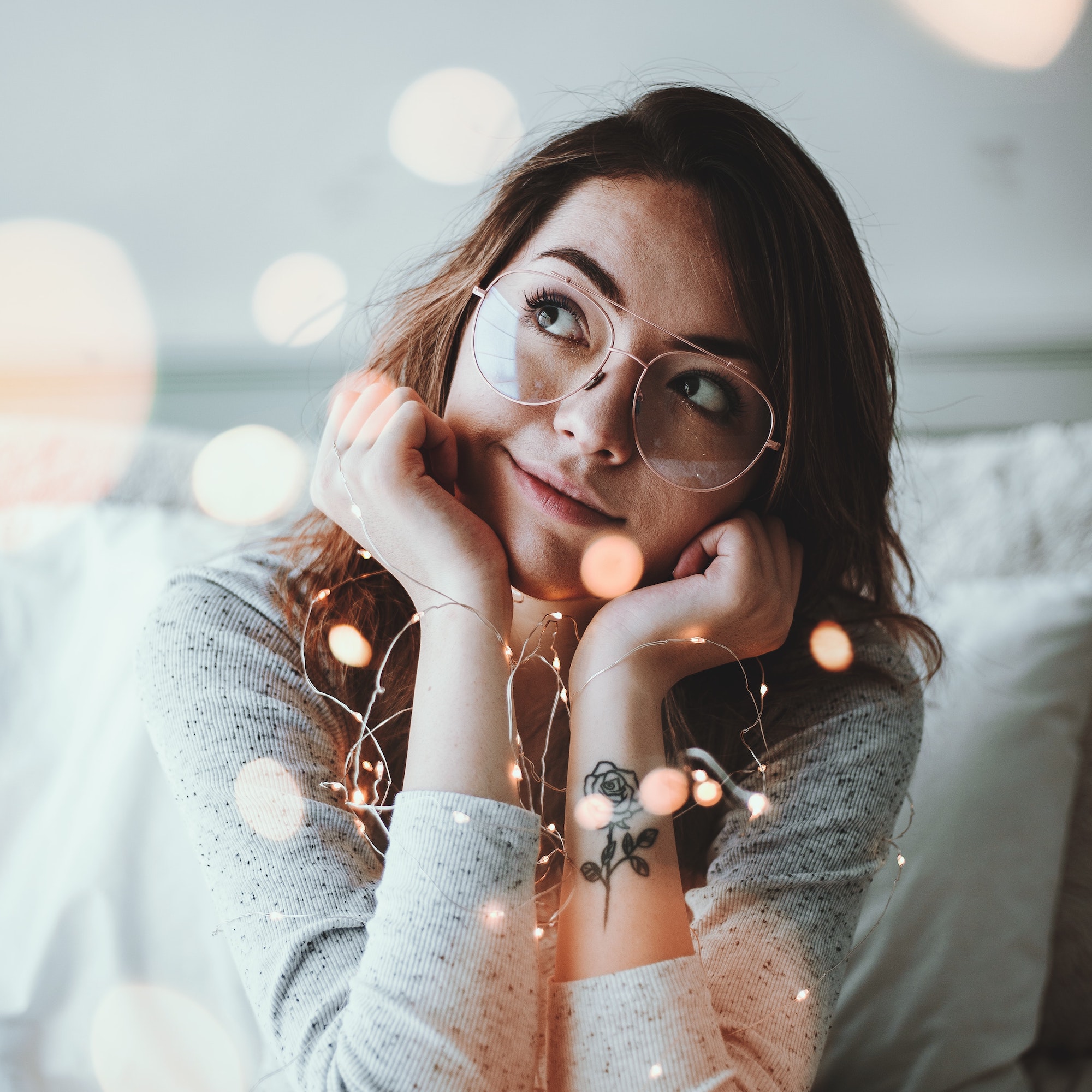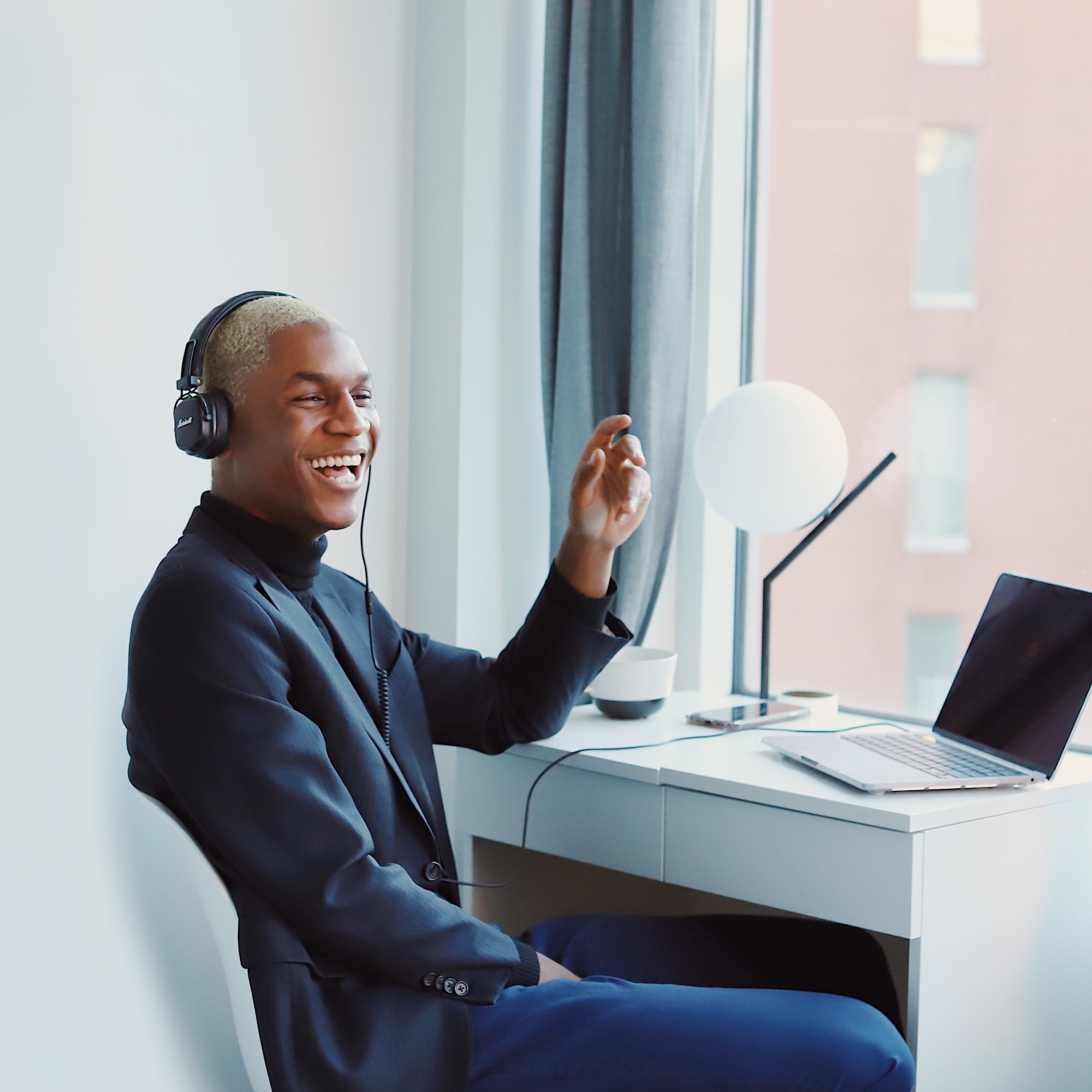 It's not just a gift to yourself. It's a gift to
all of us

.
The world needs your voice. You playing small doesn't do us any favors.
You came into this world with a passion and a purpose.
You may not know what that is yet, but you know in your gut it's time to share your voice on life's stages.
Whether it's on an Instagram LIVE, a TedX talk, or in front of a room of your peers, you have a mission and a message… and now it's time to share it!
Imagine what your
bravest self

will achieve when:
You step in front of the camera with ease.
You create new and inventive ways to share your business.
You express yourself effortlessly.
You tell remarkable, memorable stories.
You learn how to use equipment you already own.
You command the attention of an audience.
You achieve deeper authenticity and honesty.
You stop the negative chatter in your head once and for all.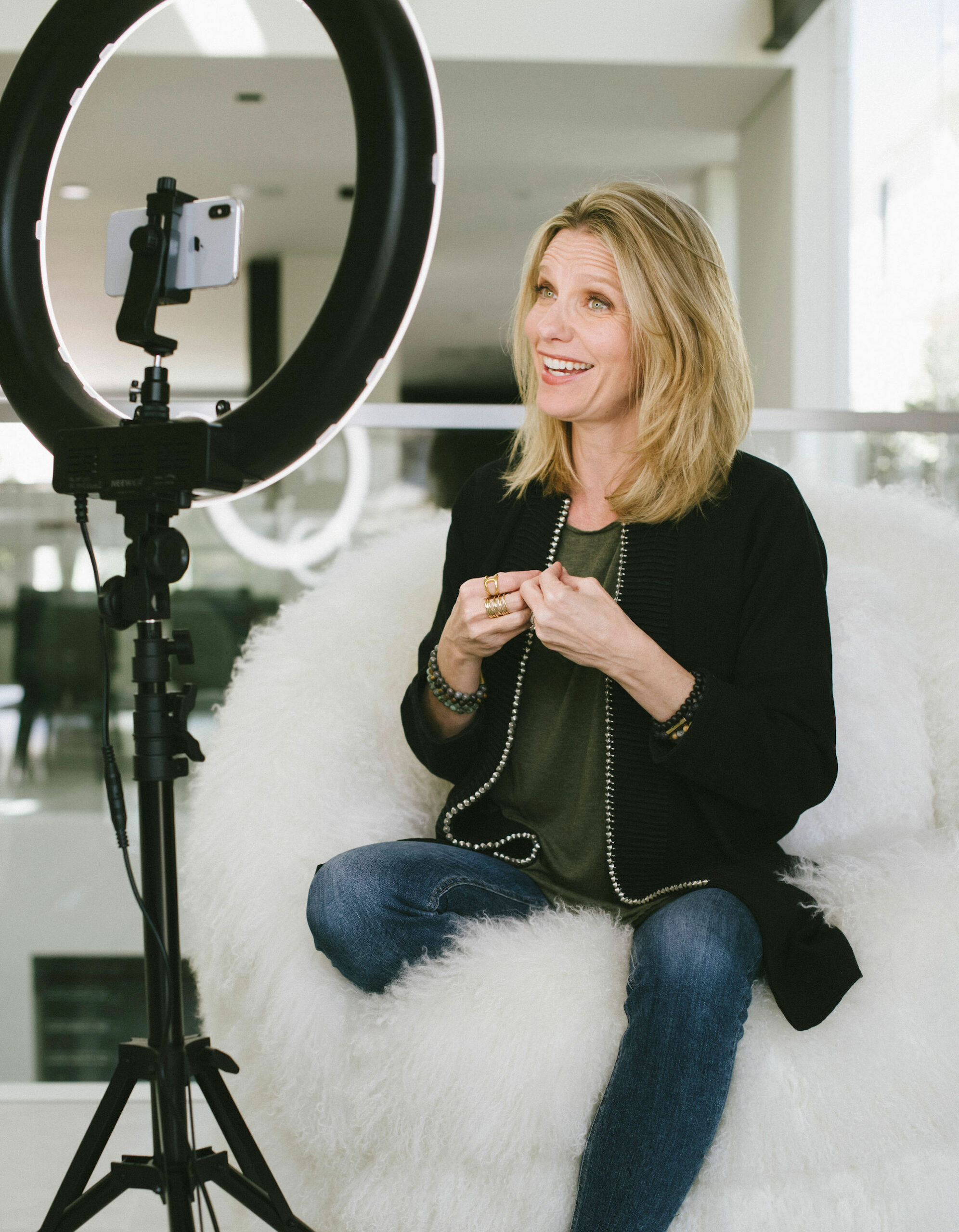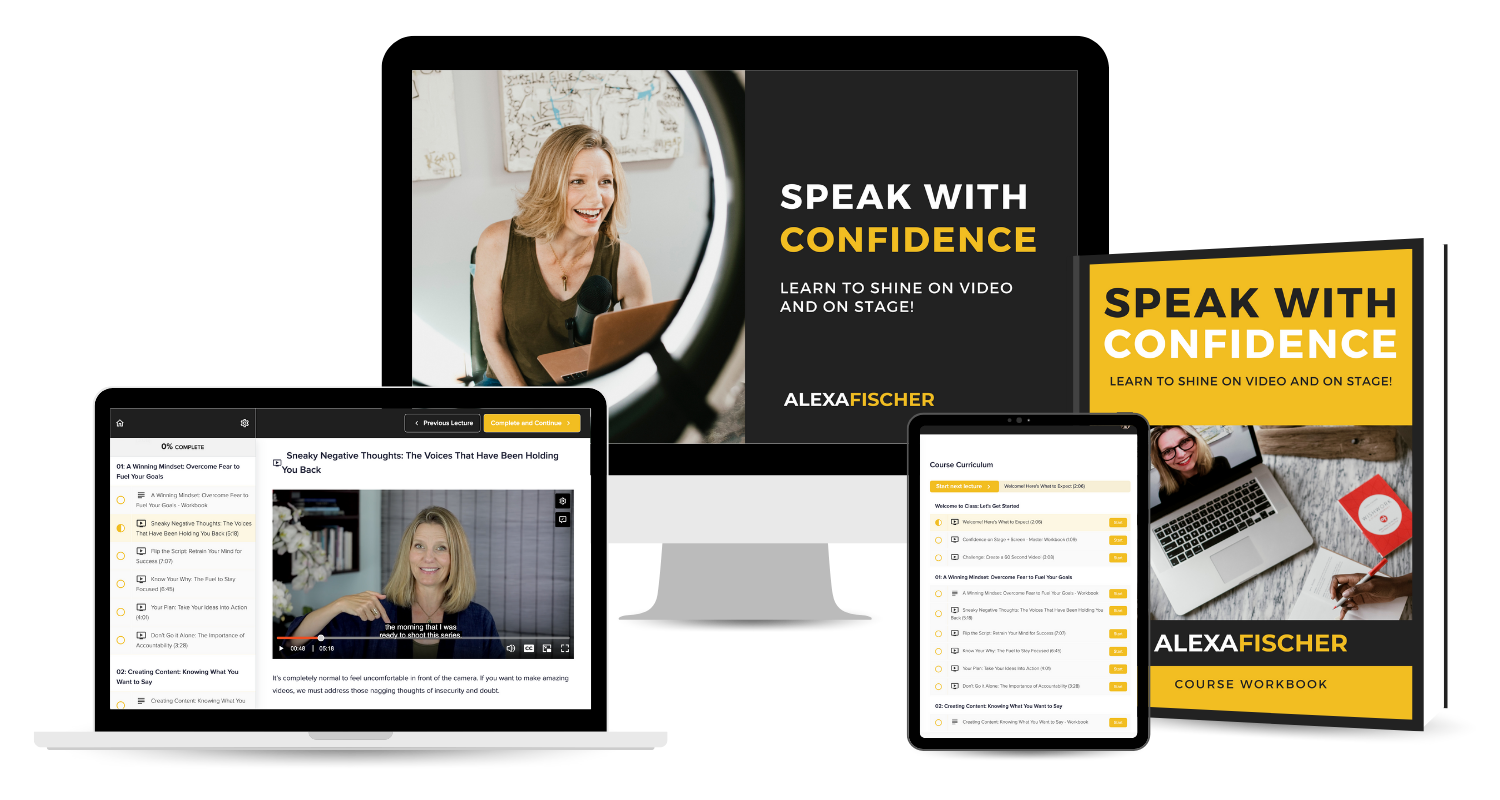 is an online course that teaches you how to overcome your fear and activate your confidence so you can show up on camera or on stage and express your truest self.
Instant access to the entire 8-module, self-paced online course—you can get started today!
50+ short, actionable video lessons with Confidence and Public Speaking Coach Alexa Fischer.
A printable course workbook and worksheets to help you plan, practice, and grow.
Monthly LIVE group Q&A session on Zoom, where you can ask questions and get virtual high fives.
Quit dodging all those great opportunities and learn to speak confidently!
A Winning Mindset: Overcome Fear to Fuel Your Goals
It's time to finally release those negative thoughts that have been stopping you in the past. Get clear on your goals, make a plan, and build accountability along the way.
Creating Content: Knowing What You Want to Say
No more reading notes and memorizing scripts! Learn my best techniques for creating content that feels fresh, conversational and memorable. It's time to become a great story-teller.
Speaking Engagements: Take the Stage with Confidence
When you are prepared, you can actually have FUN presenting in front of an audience. Learn to set yourself up for success by making a game plan–for your goals, the materials you'll need, and the steps to guide you along the way.
The Equipment You Need to Start Filming
No need to spend a fortune on fancy equipment. You can get started making videos NOW, using things you likely already own. You'll learn how to make the most out of your everyday devices with tips to make your videos look professional.
Setting up Your Space
Every detail in your video sends a message–including your background! If you want to make the best impression, learn how to optimize your video by building a "branded" look. 
Connecting with Your Audience
Building a relationship is about sparking a connection with your whole being–mind, body, voice and energy. You'll develop greater self-awareness while discovering simple adjustments to radiate confidence.
Social Media: All the Ways to Broadcast Your Brilliance
Guess what? It's never been easier to share your message online. Opportunities to build an audience exist on almost every platform. Learn to shine on all your favorite social media sites. 
Zoom for Business
Video conferencing has enabled people to work from anywhere, but learning how to do it effectively makes all the difference. And it's not just for meetings! Zoom can be an effective platform for podcasting, webinars and more.
Step in front of a group and express yourself with ease!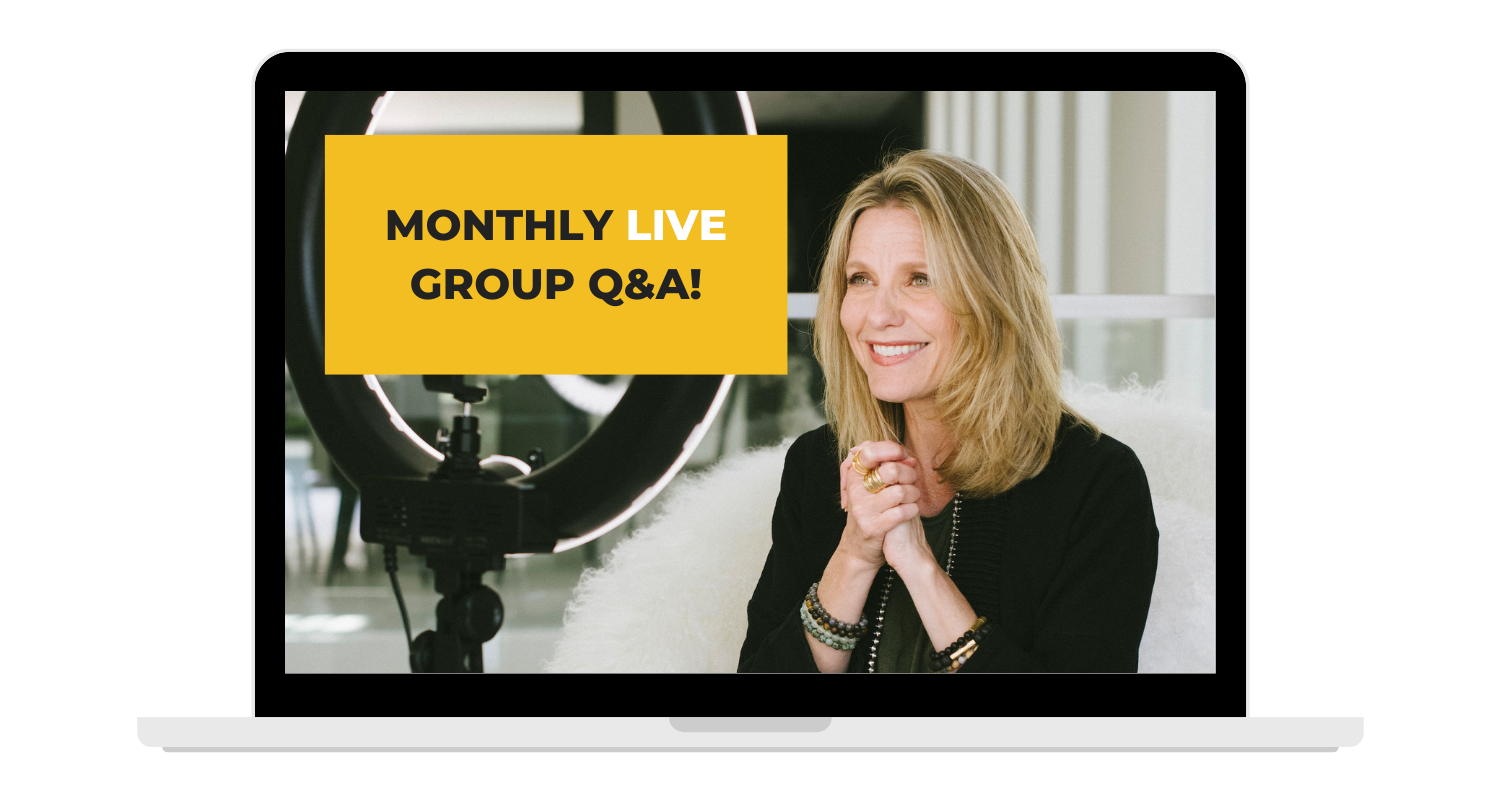 Monthly LIVE group Q&A with Alexa!
Join my members-only live group Q&A session on Zoom. That's your chance to ask questions and get answers directly from me! Can't make it live? You can submit your questions in advance and watch the replay later!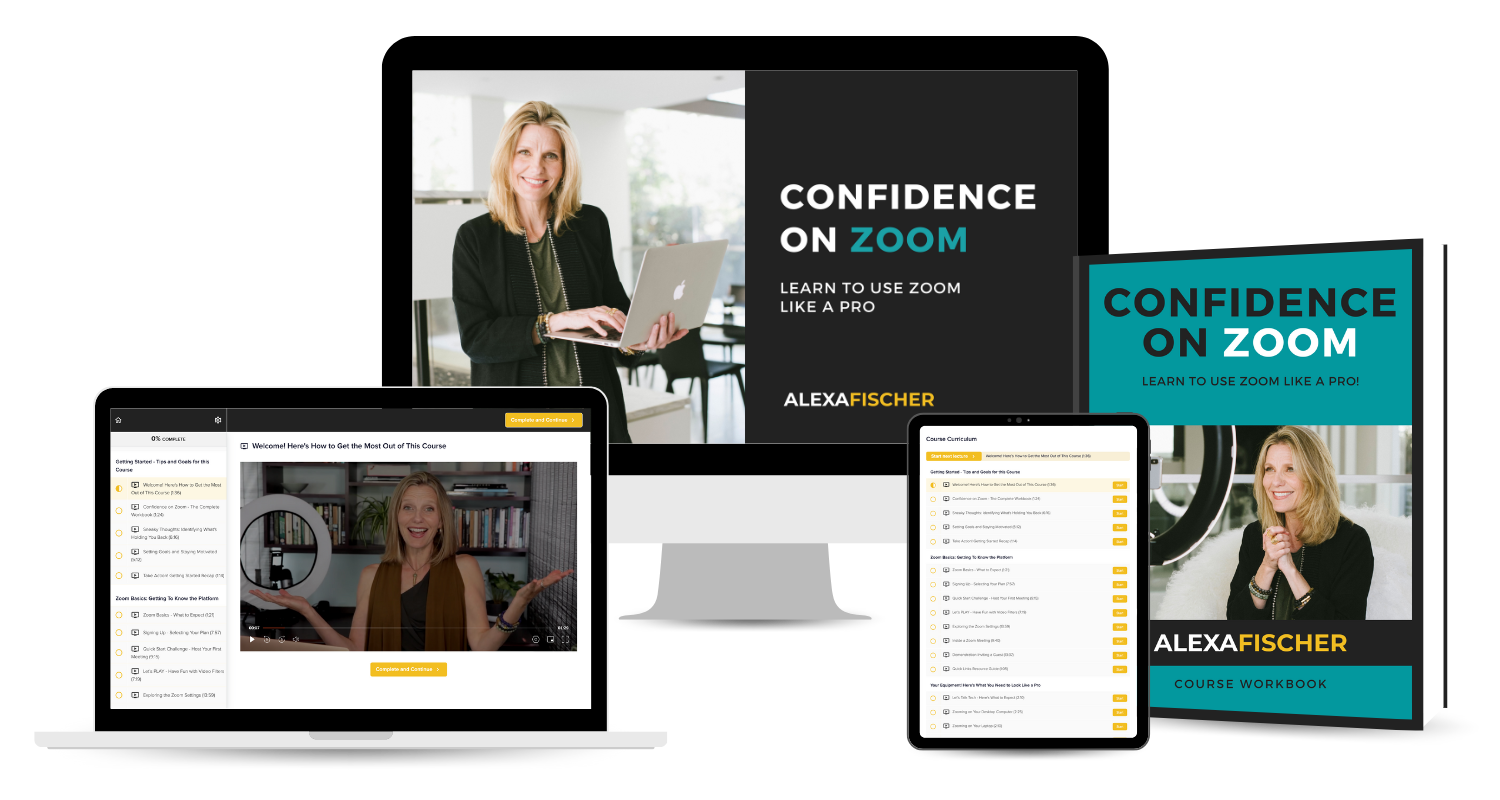 Bonus Course: Confidence on Zoom
That's right, an entire bonus course. Zoom interviews and meet-and-greets and virtual conferences, oh my! Love it or hate it, Zoom is here to stay… so you might as well learn to be amazing at it, right? Right!
"I'm a private person who happens to lead a very public life. Each time I put myself on camera, I would sweat bullets. As a published author many times over, I know that video is a terrific tool for promotion and reaching new audiences. I loved Alexa's course because it provided simple adjustments to step up my on-camera game. If you're an introvert like me, fear not! Alexa's here to help."
Enroll in

Speak with Confidence

now to get instant access—you can start today!
ONE PAYMENT OF
$195
SELF-GUIDED ONLINE COURSE + ALL BONUSES
Enroll now + access instantly.
Complete Speak with Confidence online course
(All 8 modules, closed-captioned video)
Complete Speak with Confidence workbook
(Yours to download + keep forever!)
BONUS: Monthly LIVE Zoom Q&A with Alexa
(Recorded replays available)
BONUS: Confidence on Zoom online course
(That's right—an entire bonus course!)

SECURE 128-BIT SSL ENCRYPTED PAYMENT
Two Payment Plan
2 x $105
SELF-GUIDED ONLINE COURSE
Enroll now + access instantly.
Complete Speak with Confidence online course
(All 8 modules, closed-captioned video)
Complete Speak with Confidence workbook
(Yours to download + keep forever!)
BONUS: Monthly LIVE Zoom Q&A with Alexa
(Recorded replays available)
BONUS: Confidence on Zoom online course
(That's right—an entire bonus course!)

SECURE 128-BIT SSL ENCRYPTED PAYMENT
We're confident that you'll love this course, but if you're unhappy for any reason, just let us know within 30 days—we'll give you a full refund, no questions asked!
"I recently decided to make a promotional video for my company, and I found myself very self-conscious about my accent. I knew I needed some support finding the confidence to trust my voice, share my vision, and actually hit record. This class helped me take the leap."
Is this course
right for YOU

?
Have you dreamed of playing big but fear has stopped you?
Do you feel you were put on this planet to make a difference?
Are you ready to make the leap towards success but want a helping hand?
Are you longing to pitch yourself and your business effortlessly?
Have you been looking for guidance to share your message through video?
Look no further. Sign up today and receive immediate access!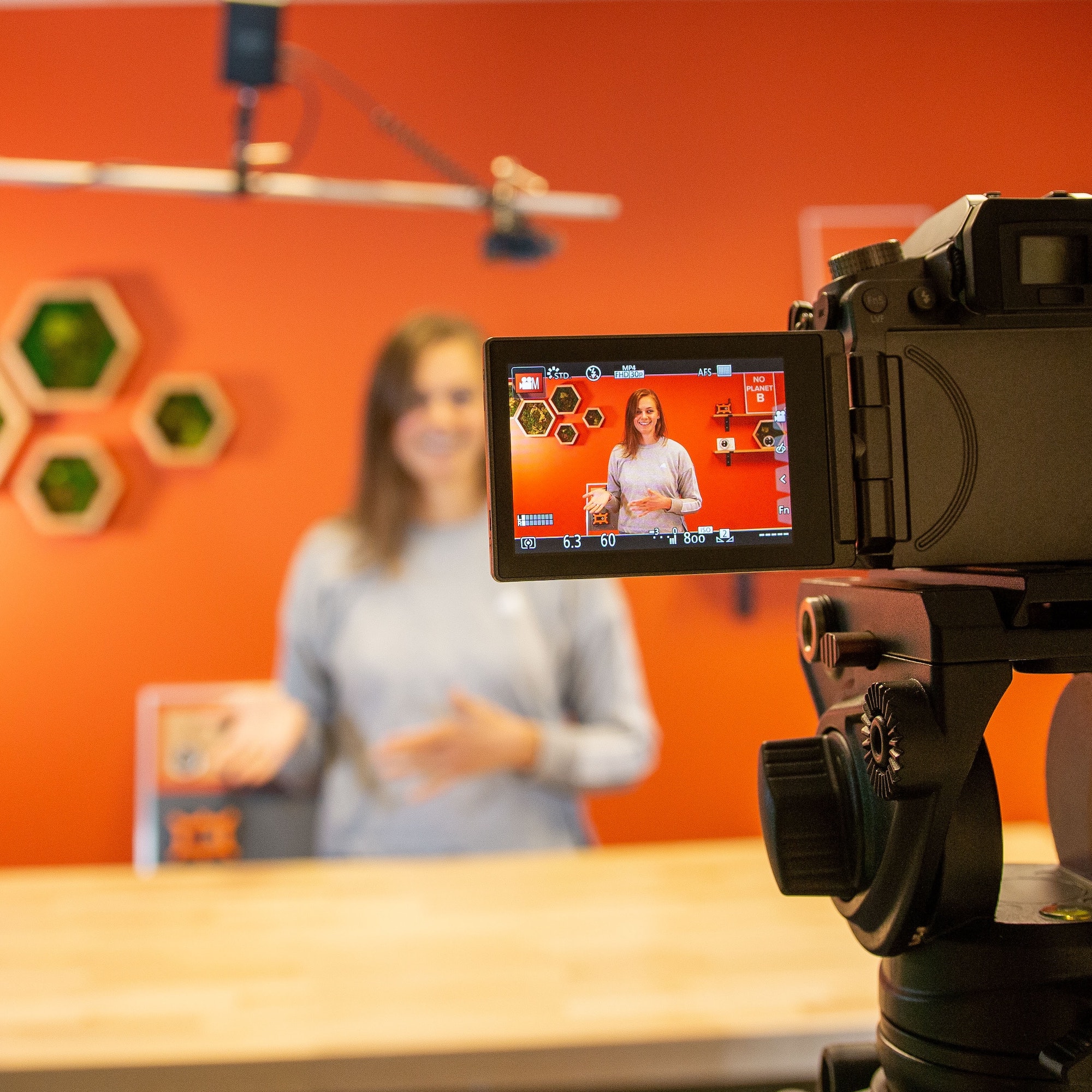 "Being an introvert, I always felt shy and self-conscious when expressing myself in front of other people and avoided speaking events like the plague. But when I realized this was affecting my confidence and performance at work, I decided to take action and start working on it. I tried this course and it's amazing! The videos are short, interesting, and easy to follow. I can't wait to put these tips and techniques into daily use."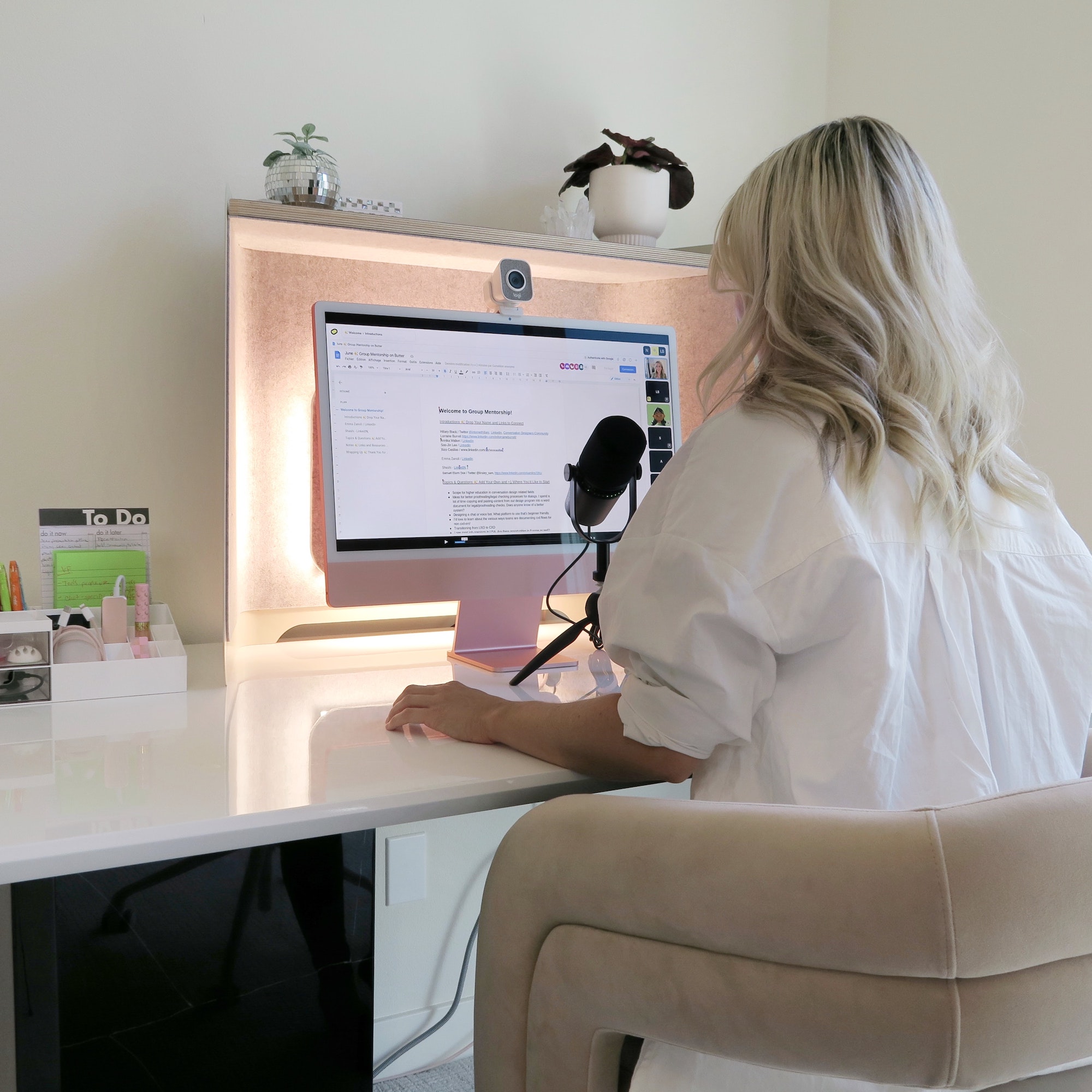 Just to be clear, this course is
NOT

about:
Transforming you into an entirely new person. Nope. My goal is to help you bring out your unique persona, so you can learn to embrace who you truly are more deeply, with greater ease and comfort. It's you, free from fear and inhibitions. It's your personality, with confidence and calm.
Teaching you how to be ME. How boring would that be?! There is only one magnificent YOU on the planet, so the sooner you begin to share your uniqueness with the world, the better the world will be.
Passive learning. While it may be tempting to watch these videos back to back, the real transformation happens when you put each exercise into ACTION. You will get the MOST from this program by implementing these exercises. Don't be fooled by how easy they are. They work, when put into practice!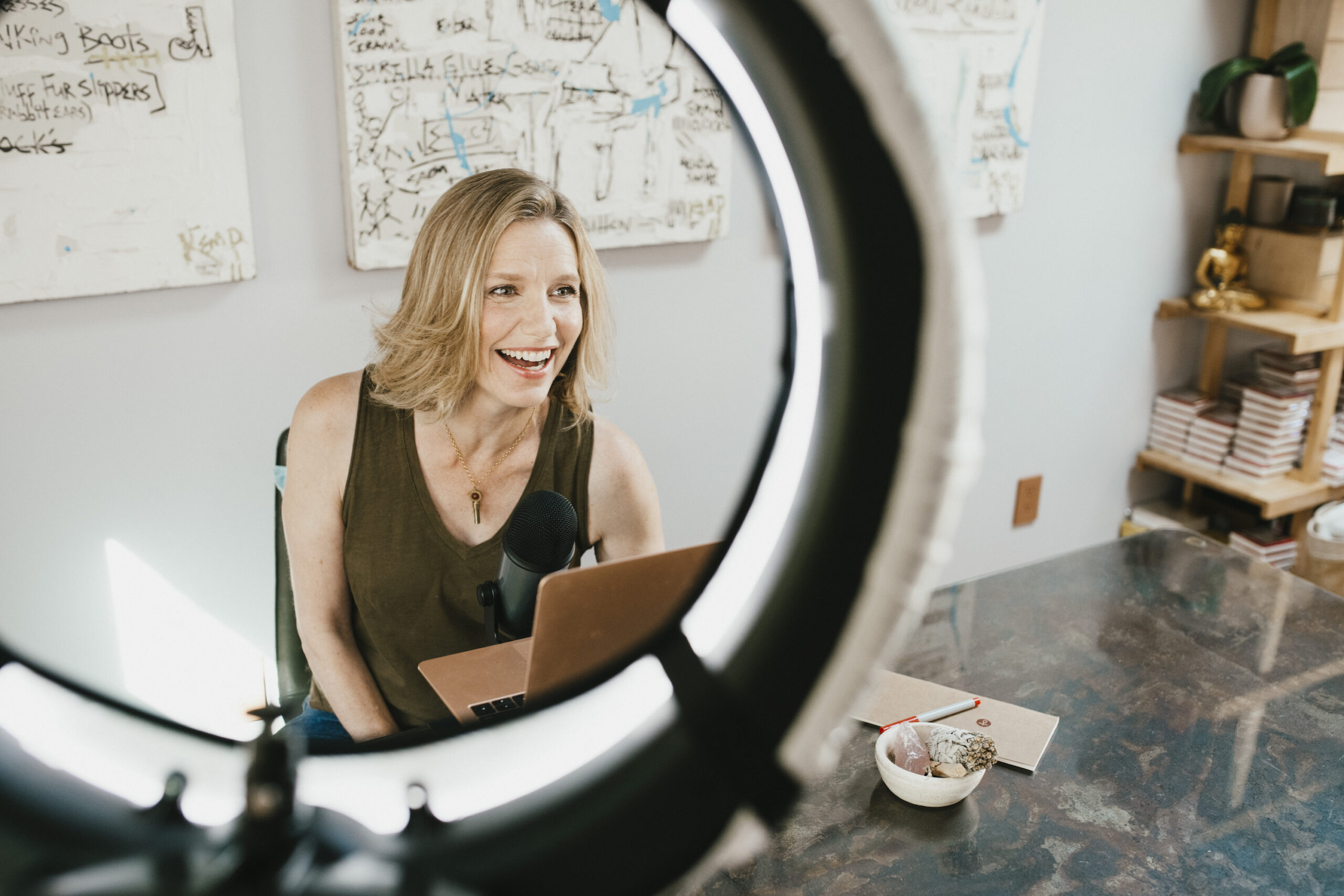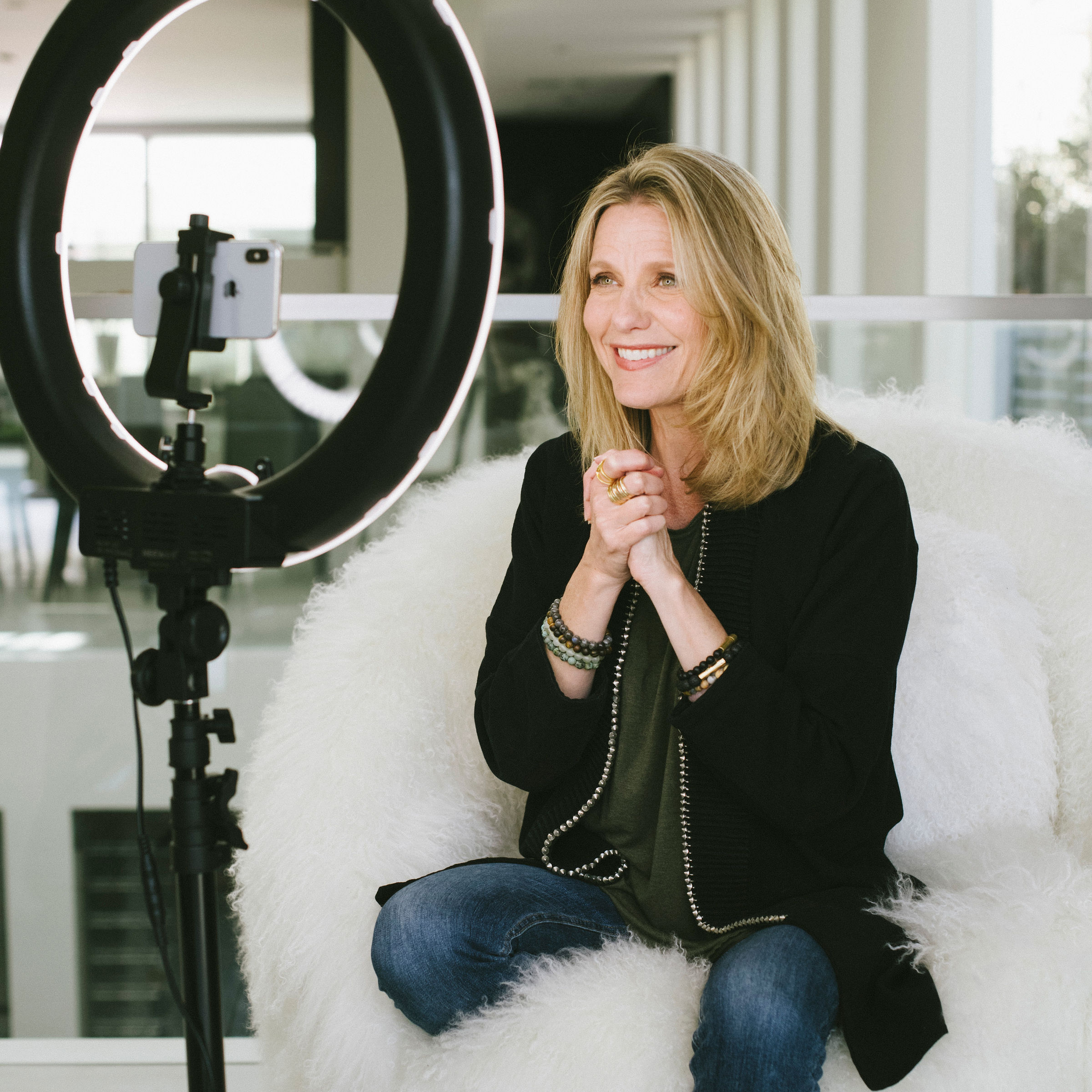 Hi, I'm
Alexa Fischer

.
Here's my story.
You might have seen me on NCIS, CSI, Numb3rs, Bones, or a whole bunch of television commercials. It was actually on the set of Bones where I had my life-changing epiphany.
You see, I loved acting, but I realized that I wanted to connect with people as MYSELF, not a character I was playing.
Today, my work focuses on helping people rise above their fears and imagined obstacles to achieve their fullest purpose. From CEOs and non-profit organizations to small biz owners with big ideas but no plan in place, I've found that our greatest untapped resource is always our own inner light. 
I serve as a coach, online teacher, motivational speaker, and as the founder of Wishbeads, an intention-setting jewelry company that empowers our community to access their inner light by taking real action towards their vision for the future.
As we unlock our own personal power, we inspire everyone around us to ignite their greatest potential, too. Imagine what a beautiful world we can create together.
You are more powerful than you think. Let's get you shining.
"When I'm not performing on Broadway, you can find me behind the camera teaching people how to sing. Online teaching was completely new to me. In addition to the technical aspects, I also wanted to learn how to connect with my students through the lens. With Alexa's guidance, I found my stride and I've had rave reviews ever since."
Frequently Asked Questions
How long will I have access to Speak with Confidence?
I'm in this for the long haul if you are, friend! You'll have access to this course—all of the video lessons, bonuses, and other content—for the lifetime of this course. In other words, for as long as it exists, you can pop back in anytime you need a refresher.
And of course, any downloads inside the course like workbooks and worksheets are yours to keep forever after you've downloaded them.
Do I need to invest in a special camera or audio equipment?
Probably not! I'm a big believer in starting with the devices that you already own and adding equipment only if you find that you really need to. The smartphone you already have probably takes great video and that's enough for most people once they learn to take full advantage of it.
For those who find they need or want to upgrade, I do make lots of equipment recommendations in the course, but it's all pretty budget-friendly stuff and none of it will break the bank, I promise.
What's the refund policy if I decide this course isn't for me?
I offer a 30-day satisfaction guarantee. If you decide the course isn't right for you, contact us within 30 days and we'll give you a full refund—no questions asked. If you have any questions prior to purchase, just get in touch—I'm happy to help!
How long does the course take? Can I go at my own pace?
There are 8 modules in this course. If you were to sit down and binge ALL of the course videos at once, it would take you about 5 hours. But of course, I don't really recommend that you do that!
The most important part of this course is implementation and practice. I recommend that you stay in each module however long you need to fully absorb each video lesson, do the exercises in the workbook, and then experiment on your own and try out the things you've learned. Some students complete a module per day, while others take a week (or more!) to move through each one. It's up to you!
Will I be able to ask you questions if I get stuck?
Absolutely! Each month, we'll have a live Q&A session on Zoom. That's your chance to ask questions and get answers directly from me.
If you can't make it to the live Q&A session, we also have a handy "Submit a question" form inside the course. Just drop your question there and I'll answer it during the Q&A—each session will be recorded and the replay will be uploaded to the course so you can watch it later.
Earnings + Results Disclaimer: We do not promise any specific results, outcomes, or assume any responsibility for your decisions related to your life or business. Your results and outcomes depend entirely on your personal efforts, your individual situation, and a variety of other factors that are personal and specific to you. By using Products or Services offered by Alexa Fischer, you acknowledge that your results and outcomes are your sole responsibility.
Testimonials Disclaimer: Testimonials reflect the real-life experiences and opinions of individual users of our Products and/or Services. However, the experiences are personal to those particular users, and testimonials are not intended to represent or guarantee that you will achieve the same or similar results. We do not claim, and you should not assume, that all users will have the same experiences. Your individual results may vary. Click here to read our full site policies, terms, and disclaimers.