Wishbeads founder Alexa Fischer is an actress, teacher, author, and speaker whose work helps people go after their dreams, build their confidence, and break free from fear. It's time to ignite your light.
Free trainings and resources to help you release fear, polish your presence, and show up with confidence.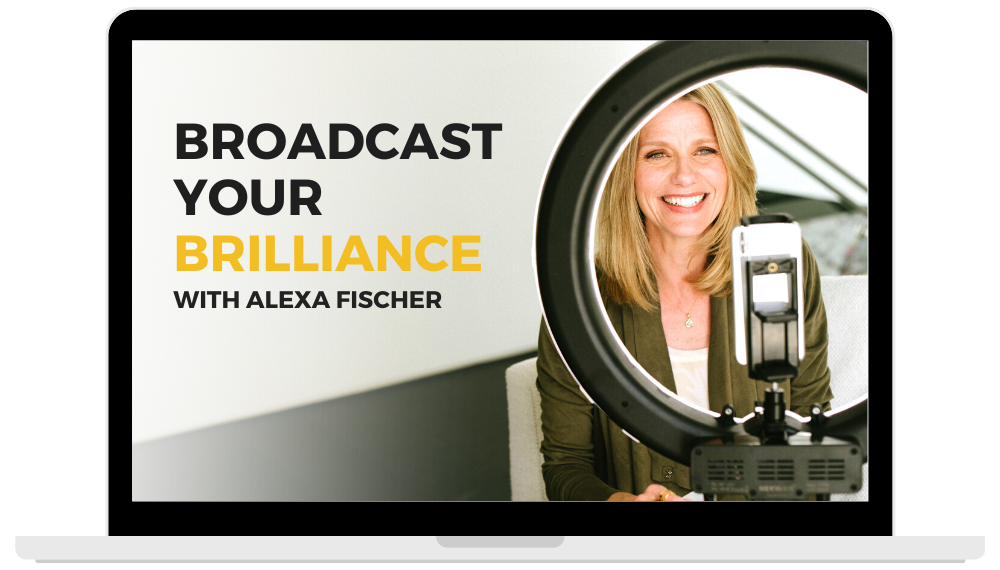 Broadcast Your Brilliance
Learn the secrets to making videos that look great, inspire others, and build an audience—using stuff you already own!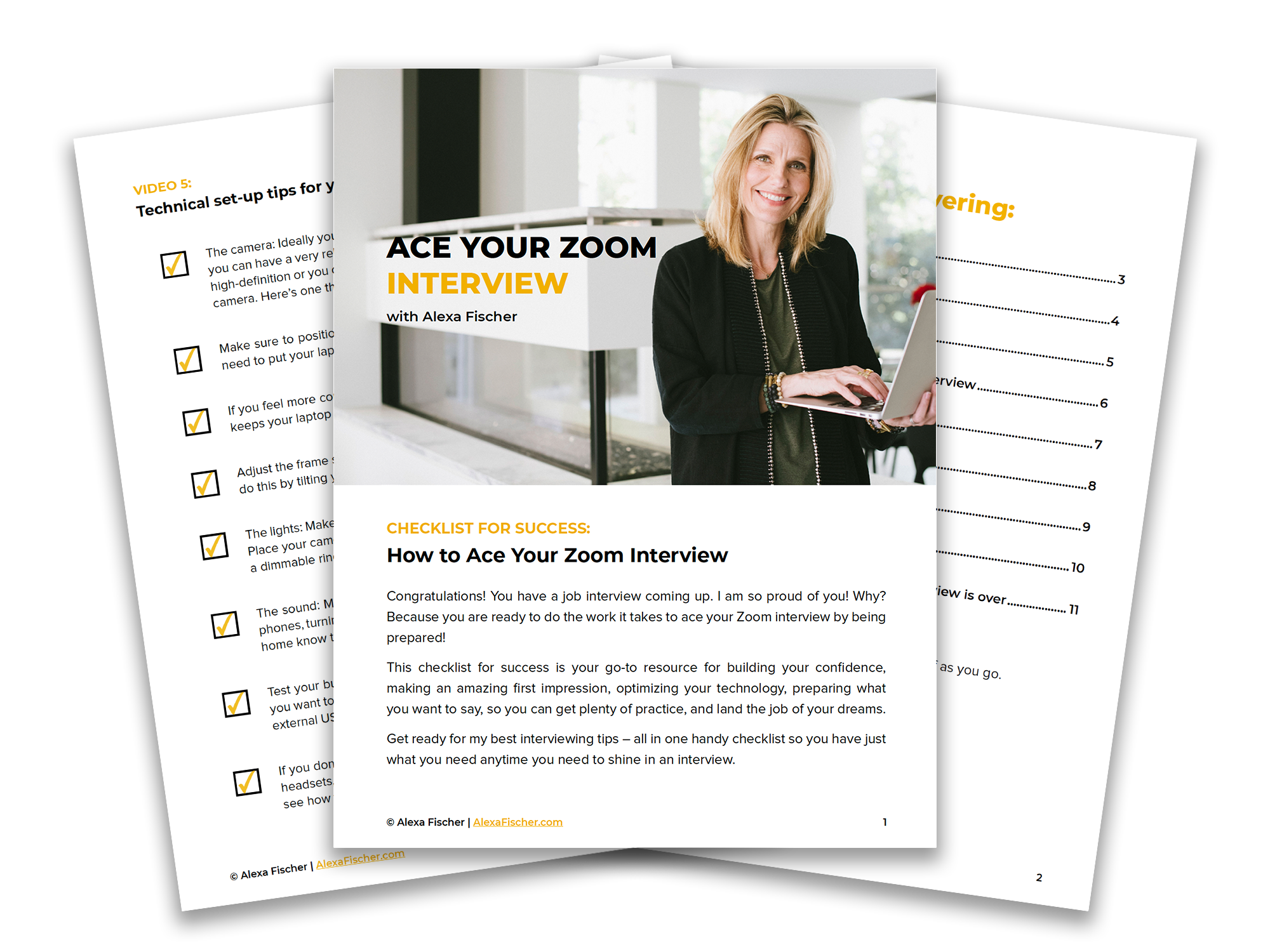 Ace Your Zoom Interview
Easy, actionable tips to ace your next job interview—on camera—so you get hired!
My mission is to help you unlock your greatest potential
For the past decade, I've had the pleasure of teaching people around the world, online and on-demand.
"Alexa is a truly gifted speaker, a bright, shiny light and, incidentally, a total hoot."
"No one who has met Alexa can doubt her gift for transforming people with her special blend of earthly and otherworldly wisdom."
"Not only does Alexa know her stuff, but she so freely gives away her own roadmap to success."
"Alexa – the coach on creating a mega-watt personality is the expert on "it" and if you don't have "it" you're toast."
You might be curious to know…
What exactly is a confidence coach?
For the last decade, I've been coaching clients, audiences, and students to become confident communicators—in person, on stage, and in front of the camera.
While my work has addressed essential skills like maintaining a positive attitude, getting out of your comfort zone, empowering body language, vocal training, public speaking, learning to talk about yourself and your business, delivering presentations, and connecting with audiences—at the heart of my teaching, I help you create a positive change in your life by building your confidence—it's the energy of success, especially for your career path.
It's time to kick your limiting beliefs to the curb, create an action plan for learning so you can build your self-esteem, and express yourself with ease. A coach can guide the way, but you do the work!
Why is being confident the key to success?
True confidence comes from an unshakeable belief in yourself. This feeling that you can achieve your life goals gives you the fuel to overcome self-doubt, take action, and stay positive along the way.
We all have moments when we suffer from low self-esteem and lack of confidence. That's perfectly normal! When you can connect to your natural confidence—the light that's inside of you—you become a role model for others. You can then set boundaries, create personal and professional goals, and feel confident that you can achieve your goals simply because you have cultivated a winning mindset.
Believing in yourself is the secret to overcoming life's biggest fears—even public speaking! When you go from, "I can't" to "I can" you give yourself permission to shine. 
What does confidence have to do with shining your light?
The quality of confidence – the essence of being comfortable in your own skin—is the energy that other people can FEEL the moment you walk into a room.
So, being confident isn't really about being the most extroverted person or being free of all doubts. It's about having faith in yourself, and making a commitment to personal development, so you can naturally achieve your goals. It's that "light" that people feel and see the moment you walk into a room!
I've based my coaching programs on years of working with real clients, helping them set boundaries, even offering career coaching, so they have the necessary confidence-building skills to pursue their life's purpose.  My coaching styles have evolved over the years, but I have seen, over and again, the elated faces of students discovering how awesome they really are. That quality – that inner shine – is truly the essence of a confident person.
Why is confidence so attractive?
A confident person moves through life effortlessly in their authentic self. Free from the burden of self-doubt, they exude a positive mental attitude that naturally inspires and uplifts those around them. When you are attracted to someone, it means you're naturally drawn to energy that's desirable, magnetic, inspiring, and quite simply – makes you feel good. Imagine living your adult life like that?
Low self-esteem robs people of the opportunity to see their own greatness. Learning how to build your confidence will inevitably create a positive change in your life, creating a feeling of well-being, a winning positive mindset, and a strong sense of self.
Stop telling yourself you're not good enough—you're amazing the way you are! With a little coaching, you'll start experiencing the lasting confidence that comes with rediscovering your true gifts.
What are the benefits of self-confidence?
Self-confidence is your secret superpower! When you're confident, you give yourself permission to be yourself—free from fear, self-consciousness, self-doubt, and the persistent nagging thought that you're never enough. That's nonsense!
You're MORE than enough and your uniqueness, including all the challenges you've faced and the experiences you've had, make you who you are. 
Your human potential is endless. When you build your confidence, you learn how to maintain a positive mental attitude, so you can achieve your goals with grace and ease. By believing in yourself, you can reach your full potential.
If you want to make a positive impact in the world, potentially reaching a global audience, then building your self-confidence not only benefits you, it will benefit everyone around you – your audience, your customers, and your fans.
Do you offer private coaching?
The best of my teaching has been captured in each of my online confidence building courses!
I often incorporate live teaching into many of my online offerings so you'll still get the real Alexa (not to be confused with that ever-listening-digital-know-it-all in your house).
Be sure to sign up for my list so you'll be the first to know about live events and new offerings! I love teaching so much that I may just add new coaching packages, coaching programs, and business coaching too.
While I never call myself a life coach, I know that building social confidence, online confidence, and career confidence will certainly change your life! Hope to meet you soon!